••••••••••••••••••
June 4, 2021

In celebration of the Araw ng Kalayaan and 500 years of Christianity in the Philippines, everyone is invited to an open-air holy mass celebration on Sunday, June 13, 2021, 3pm at the garden/parking space of the Heilig Geist Parish.
Father Jun de Ocampo and our honorable Ambassador Dizon-De Vega, who will soon continue her public service in South Korea, will be welcoming you all.
Important notice: Wearing of masks,social distancing and other safety measures will be observed on the event.
••••••••••••••••••
A blessed and happy new year 2021 to everyone!
••••••••••••••••••
Thank you to all who donated to typhoon victims!
December 2020
We were able to donate 800€ to the Caritas Damayan charity project!
Maraming salamat po sa inyong donations!
••••••••••••••••••
Welcome Back!
You are Welcome to Join!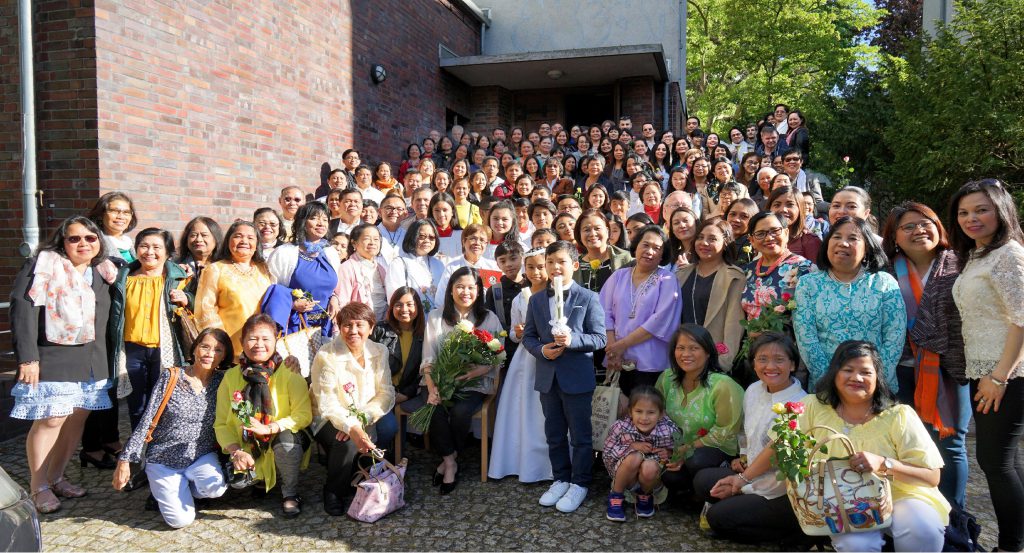 We are a community of Filipinos in Berlin. And we are inviting you to join us in our events and activities!
Bayernallee 28
Philippine Community Berlin
Heilig-Geist Kirche (Holy Spirit Church)
Bayernallee 28
14052 Berlin, Charlottenburg
Germany
Since the 1980s, Bayernallee 28 has been a cultural and religious center for Filipino migrants in Berlin. Everyone is welcome to visit and participate!
An Invitation
Join other Filipinos in Berlin in celebrating the Holy Eucharist
Sundays, 15:30pm
Address: Heilig-Geist Kirche, Bayernallee 20, 14052 Berlin
Filipinos in Berlin and their friends are welcome!