A WAC-ky community
We are a "Welcoming, Accommodating and Caring" community!
••••••••••••••••••
Sunday Holy Mass schedule in 2022
The Holy Mass every Sunday starts at 3:30PM with Fr. Jun de Ocampo as the celebrant. See you there!
••••••••••••••••••
Sacramental Services
For information on baptism and wedding, please contact Fr. Jun de Ocampo at bahaykoberlin@gmail.com.
••••••••••••••••••
Past News
In celebration of the Araw ng Kalayaan and 500 years of Christianity in the Philippines, there was an open-air holy mass celebration last Sunday, June 13, 2021, 3pm at the garden/parking space of the Heilig Geist Parish.
Father Jun de Ocampo and our honorable Ambassador Dizon-De Vega, who continued her public service in South Korea graced the event.
Important notice: Wearing of masks,social distancing and other safety measures were observed on the event.
••••••••••••••••••
Thank you to all who donated to typhoon victims!
December 2020
We were able to donate 800€ to the Caritas Damayan charity project!
Maraming salamat po sa inyong donations!
••••••••••••••••••
Welcome Back!
••••••••••••••••••
Our community pre-Covid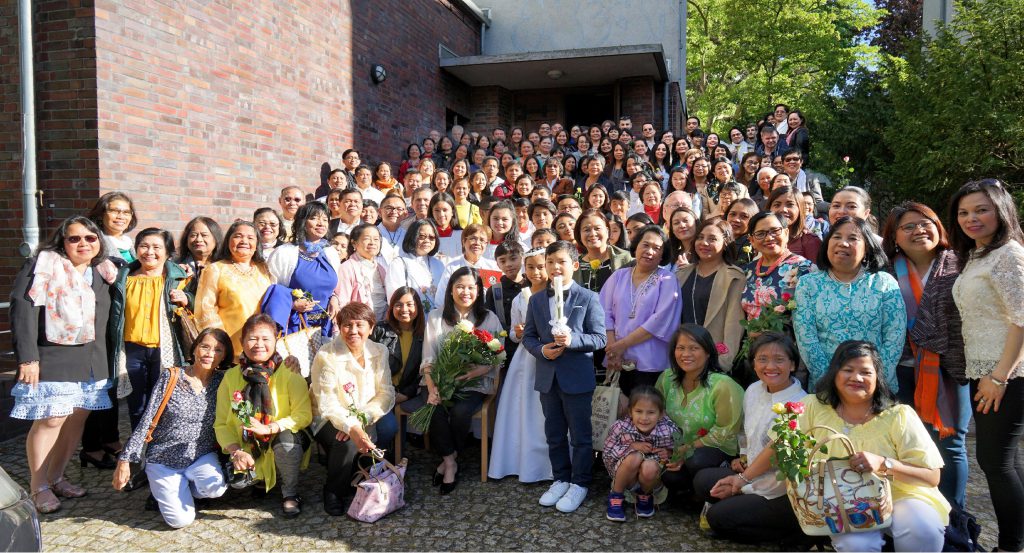 We are a community of Filipinos in Berlin. And we are inviting you to join us in our events and activities!
Bayernallee 28
Philippine Community Berlin
Heilig-Geist Kirche (Holy Spirit Church)
Bayernallee 28
14052 Berlin, Charlottenburg
Germany
Since the 1980s, Bayernallee 28 has been a cultural and religious center for Filipino migrants in Berlin. Everyone is welcome to visit and participate!
An Invitation to gather
Join other Filipinos in Berlin in celebrating the Holy Eucharist
Sundays, 15:30pm
Address: Heilig-Geist Kirche, Bayernallee 20, 14052 Berlin
Filipinos in Berlin and their friends are welcome!